Industrial Air Filter Manufacturer | DML
Professional cost-effective industrial air filter element supplier
DML industrial air filter manufacturer provides matching replacement filter models and customized air filter.
Use for industrial equipment, heavy mobile equipment, air compressors, and other dust filtering equipment and various clean rooms.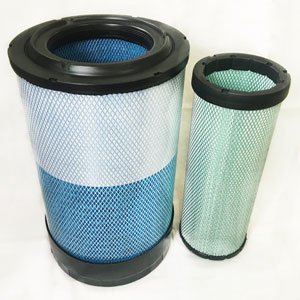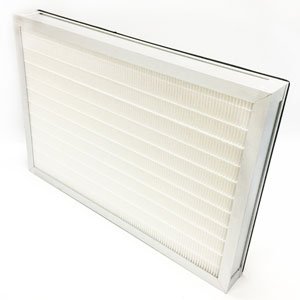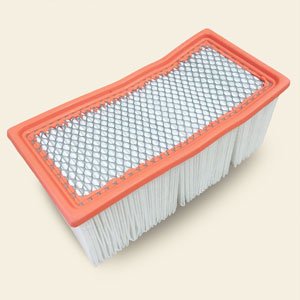 Dust Filter Cartridge
Panel Filter
Pocket Filter & Bag
(the diameter range of filtering impurities: 0.1~10μm).
It has excellent filtration efficiency, good waterproof and oil-proof performance, low resistance, ability to handle large air volume, high strength, long service life, etc.
Industrial Air Filter Classification | DML
Find the right air filter element for your industry
As an industrial air filter manufacturer, DML can provide air filter products for these industries:
Energy (electricity, petroleum), cement, chemical, machinery, glass, and other production line raw materials recovery, dust removal, etc. dust removal filtration.
Cigarette, coating, production line raw material recovery, etc. dust removal filtration.
Dust removal filter element of dust collector in woodworking, polishing, crushing, and powdering agent industries.
Special filter element for dust box of engineering rig.
And clean rooms for various industries, etc.
Provide air filter products for dust filtration, sterilization, deodorization, dust-free, etc.
Want to replace a high-quality, affordable air filter?
(Talk about your needs, 24/7 at your service)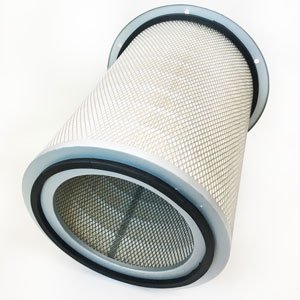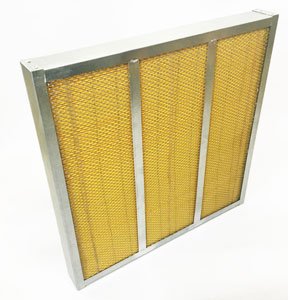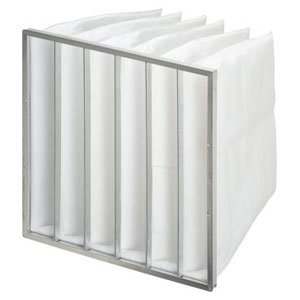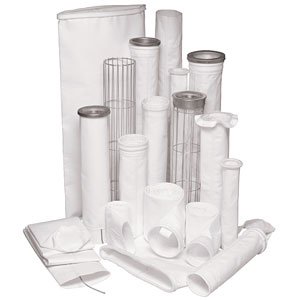 Why Choose DML Industrial Air Filter Manufacturer?
6 reasons to help you get high-quality air filter
Replacement Filter
More than 8000 types of air filter can cover most brands of industrial dust removal equipment。
Professional Customized
Model customization, brand printing customization, packaging customization, professional air filter design, and development engineer.
Quality Control
Complete filter material testing equipment, mature production technology, strict quality inspection procedures.
Price Advantage
Better quality than the original air filter & save more than 35% replacement cost.
Transportation Advantage
Mature freight channels, cost controllable. A stable and safe receiving experience by Compression-resistant packaging.
Stable Production & Delivery Period
Automated production line, fast production and delivery in any situation, NO MOQ.
Know More About DML Air Filter Element
Corrosion, High temperature, and pressure resistance. Easy to install and disassemble. Standard size.
Good sealing. Large processing gas volume. Can back blow cleaning. low energy consumption.
Dust Filter Cartridge
The filter cartridge is a cylindrical air filter element that is folded into pleats by a certain area of filter material.
Features of dust filter cartridge:
Greatly increase the effective filtration area;
Ensure a low and stable pressure difference & increase air flow;
The filter cartridge element is small and easy to install;
It is also suitable for industries with high dust concentration.
Affected by the requirements of filtering impurities, use requirements, and use environment, the selection of the filter material of the dust filter cartridge, the number of pleats, the density of pleats, the size, etc. are all different.
Specific parameters need to be determined according to cleanliness requirements and actual equipment requirements.
It cannot be changed at will.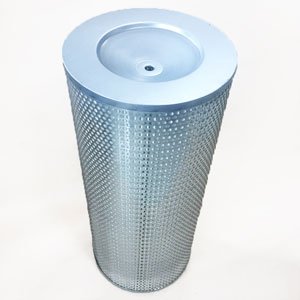 Stainless Steel Air Filter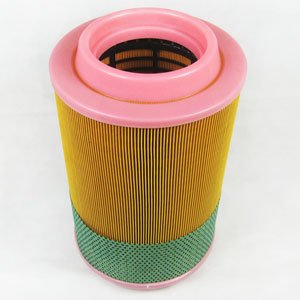 Large Flow Dust Filter Cartridge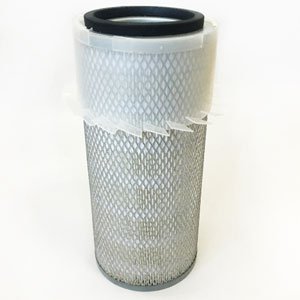 Air Filter with Wind Leaf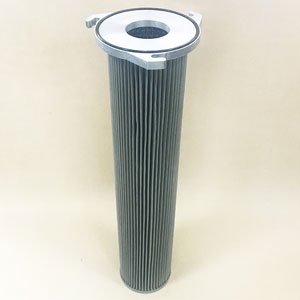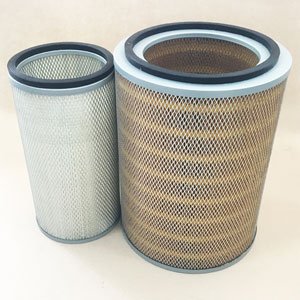 Air Compressor Air Filter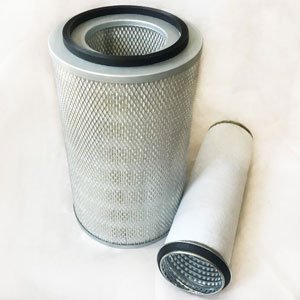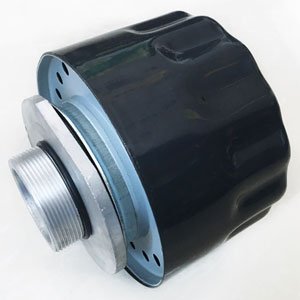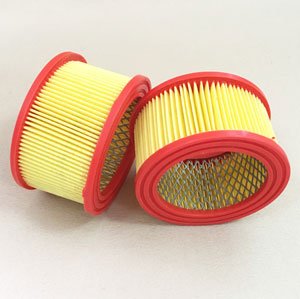 Panel Filter
As a panel industrial air filter manufacturer, DML provides panel filter for industrial dust removal and filtration.
For example:
Air filter elements for large-scale industrial filtration equipment, clean rooms, and other industrial equipment.
The characteristic is the large size.
If you are looking for a high-quality industrial dust removal equipment filter element supplier, DML is your trusted partner.
Advantages of panel filter:
Sturdy structure and stable filtering effect;
Relatively high dust catching capacity and easy to clean;
Low initial resistance and extended service life;
Effective dust removal and ventilation through combination;
Special process methods and abundantly available filter materials increase applicability in different environments.
Filter Bags
The filter bag is usually made of cloth material, which can not only be used for dust removal but also can filter water, oil, and other liquids.
Different materials can make the filter bag have multiple properties.
It can withstand high temperature, strong acid, alkali, grease, high toughness, abrasion, and damage, etc.
And it has the advantages of good dirt holding capacity and service life, easy cleaning and maintenance, low-pressure difference, and large processing capacity.
Filter bags are widely used in industries such as eliminating dust pollution, improving the air environment, and recycling materials.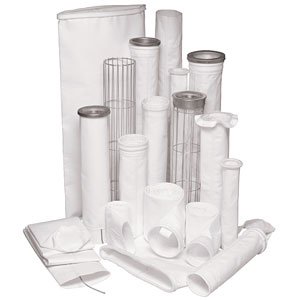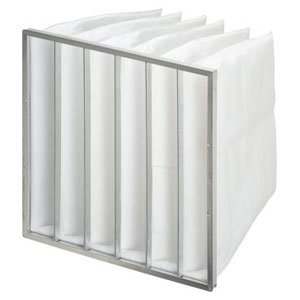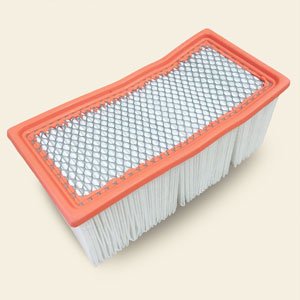 How to Purchase Industrial Air Filter?
Air Filter Element | Interchange Filter
Please provide the brand model number of your original filter
Or the reference photo
You will get the quotation in a very short time
Air Filter Element Customized
Please tell us your industry first
and the type of air filter need to customize, or specific requirements
Our professional engineers will help you build a personalized customized solutions
24/7 at your service, help you solve any questions about the air filter.
Get A Suitable Air Filter
Do you know how to select the air filter element?
The structure of the air filter is relatively simple, while the choice of materials is more abundant.
Commonly used filter materials for air filtration include:
Air filter paper (normal, flame retardant), fiberglass, stainless steel mesh, polyester filter material (normal polyester fiber, waterproof polyester, anti-static polyester, etc.), felt, fiberglass felt, etc.
What Does The Industrial Air Filter Manufacturer Need?
Many factors need to be considered in the manufacture of air filter.
Air volume (air cloth ratio)
Air resistance (pressure drop)
Dust concentration
Filtration accuracy (the size of the dust to be filtered)
Filtration efficiency (air cleanliness)
Ambient temperature
Whether it contains corrosive impurities
Work pressure
Size, height
The nature of dust (flammability, explosiveness, etc.)
etc.
It is necessary to select the appropriate air filter according to the use effect, environmental requirements, and specific requirements for all equipment.
These influencing factors should be fully considered especially for custom-produced air filter elements.
Common Filter Media For Air Filter Element
Paper Dust Filter
This kind of air filter material made of natural wood pulp fiber has poor strength and is not resistant to water. It is suitable for dust filtration with low water content in the air.
However, by combining with other materials, a flame-retardant filter element can be made, which can adapt to high-temperature environments.
Fiberglass Filter
As the filter material of the air filter element, fiberglass can play a role in separation. It can filter impurities other than solid particles such as oil and water in the air (including solid particles).
It has the advantages of extremely high filtration accuracy, high-temperature resistance, and long service life.
Stainless Steel Metal Mesh Air Filter
The filtration accuracy of stainless steel metal mesh can reach 5μm, so it can meet the needs of many special industries.
Advantages of stainless steel metal mesh air filter:
a, no filter material falling off;
b, high temperature, and low-temperature resistance. Corrosion-resistant, no chemical reaction;
c, Large filtration area, high mechanical strength, small pressure loss;
d, easy to reverse clean, long service life.
Polyester Filter Material
Good wear resistance, it can withstand the pulse blowback of airflow better than other materials (except stainless steel metal mesh), and can be cleaned repeatedly.
Good chemical stability, corrosion resistance, and high-temperature resistance. It is often combined with other materials to make filter materials with different functions.
Felt Filter
It is a kind of filter material belonging to cloth materials, which can be used to filter gas, water, oil, etc.
…
How to Choose Interchange Filter?
Generally,
According to the air filter model requirements, you can quickly select a suitable replacement filter element.
This is because the standard air filter has fixed data parameters in all aspects and does not need to be changed, it only needs to be made according to the original filter design.
But pay attention to distinguish the quality, the appearance can be exactly the same, the key is to have effective filtering performance, it can be compared with the original filter element to make a preliminary judgment on the quality of the replacement filter element.
For example:
Is there an unpleasant smell?
Whether the density of pleats meets the requirements
Is the height of pleats meets requirements (the width between the inner and outer diameters)
Whether the inner diameter and outer diameter meet the standard
Height of filter element
Is the structure tight enough and not easy to loosen and deform
The sealing structure is chipped or incomplete
Is the weight of the filter element sufficient?
The roughness of filter element workmanship
etc.
These surface problems can make a preliminary judgment on the quality of the filter element.
But it is impossible to accurately determine whether the filter element has excellent filtering performance.
This needs to be tested.
Know More About The Air Filter
The basic misunderstandings about the filter element, such as the size of the filter accuracy, the problem of materials, etc., will not be emphasized too much.
Here are a few issues that are easily overlooked.
1,Filter quality problem
During use, if the filter element has air leakage, the differential pressure resistance reading has abnormal growth, etc., what needs to be considered is not only the quality of the filter element but also the size of the interface part of the filter device, which requires custom processing.
For example, if the quality of the static pressure air supply port is not good enough, it will cause a loose seal between the standard replacement filter element and the air supply port.
If you encounter this kind of problem, you need to accurately measure the equipment to eliminate the possibility of failure.
2,The air filter can be cleaned and reused
Most of them can be blown back to extend the number of uses (instead of extending the service life), however, in some cases, cleaning is not recommended.
It should be replaced directly.
There are four reasons.
a. Advanced clean room
(such as some air filtration equipment for pharmaceuticals, electronic equipment, etc.)
These filtering equipment have higher requirements for cleanliness. It has little effect on anti-cleaning and may cause secondary pollution.
b. Equipment with precision structure
(such as air compressor, etc.)
The back-end filtration systems of this filtration equipment are equipped with filters that are more expensive and cannot be used to increase the number of times of use through cleaning.
Moreover, the filter element protection system is relatively sophisticated, expensive, and difficult to maintain, in order to save the replacement cost by cleaning the air filter is obviously not cost-effective.
c. If the air filter is not too dirty, it does not need to be replaced.
If the operating environment of the equipment is very clean, it can be replaced after a period of time has passed the replacement period, or the operating environment is very bad, but the air filter is much cleaner than imagined.
You should be alert at this time.
It is necessary to judge whether the air filter element has effective filtering capacity, otherwise, it must be replaced in time.
d. No reverse cleaning system
If you need to manually remove it and clean it manually, it needs to consider whether there are strict requirements for cleanliness standards.
If the requirements for cleanliness are very strict, it is best to replace them directly, because the equipment is not equipped with a pulse backwash, etc, clean pressure and uniformity cannot be ensured and will cause more dust pollution inside the filter element.