Hydraulic Suction Filter Element Manufacturer
Professional Hydraulic Suction Strainer Suppliers
Replacement Filter

Compatibility 100%, Direct replacement of the kinds of brands original filter element. No MOQ.

Reasonable Price

The hydraulic strainer of excellent filtration efficiency at a very reasonable price, save your replacement cost over 35%.

Private Label Custom Service

Flexible customization of brand labels that according to your requirements.

OEM/ ODM Service

Custom the production lines for our clients of Germany, Czech, Romania, etc. which to provide high-quality filter elements.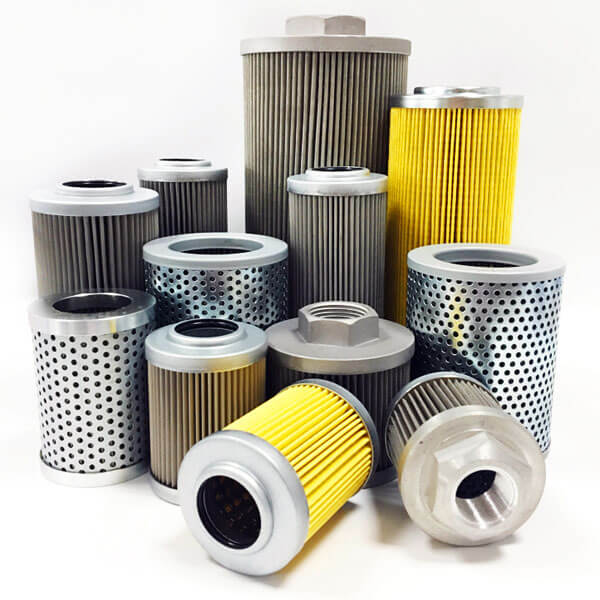 Hydraulic Suction Filter Elements Supply
Replacement filter elements & Customized products
Suction Strainer
DML specializes in providing hydraulic filters for industrial equipment and heavy mobile equipment, including suction strainers, high-pressure filters, hydraulic return filter, respirators, filter cartridges, precision filters, servo valve filters, etc.
More than 48,500 interchange filter elements of conventional models, Products cover major OE parts and recognized manufacturers.
Customized according to the latest ISO standards, Nearly 10 years of ODM services experience for German brands.
With the development of modern industry, the working environment and hydraulic system have become diversified.
Although the use of the oil filter greatly increases the cleanliness of the new oil.
The oil suction strainer element still plays an irreplaceable role.
DML hydraulic oil suction strainer is mainly made of stainless steel metal mesh, and its minimum filtration accuracy is 5μm.
Simple installation and removal, fitting the replacement requirements of most conventional models.
Reused by reverse cleaning.
Want to change your suction strainer? Just provide brand model number or reference picture.
24/7 At your service.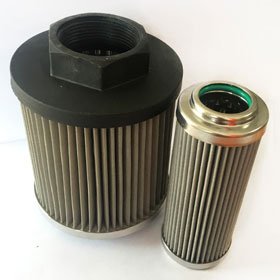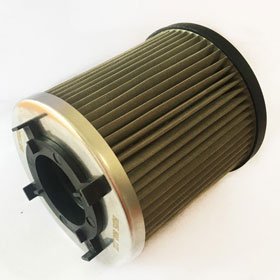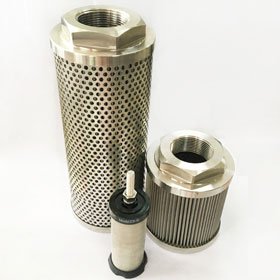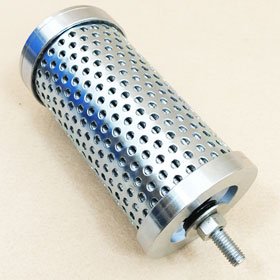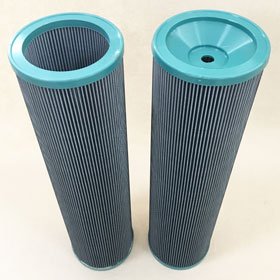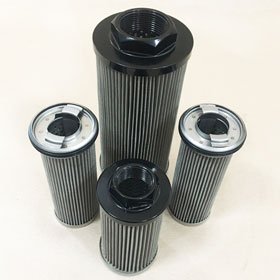 Why Choose DML Hydraulic Suction Filter?
Quickly & easily self use or provide filter to your clients from a reliable source
Quality Control
High-quality exchange components can protect your system and provide quality maintenance for any hydraulic application.
Reusability
Excellent process quality allows you to clean and reuse the suction filter many times without influence its filtering performance.
Technical Support
Mature technology according to system info & use environment, to ensure the flow and filtration performance of suction filtration.
Interchange Range
Can cover almost all industrial and heavy mobile equipment needs for hydraulic replacement filter elements.
Price Advantage
The integration of R&D and production from raw materials to filter elements makes the cost and quality extremely controllable.
Professional customized
OEM/ODM,
No MOQ,
Flexible brand logo printing service.
How to Purchase Suction Strainer Filter?
Follow the steps outlined below
Interchange Filter:
Suitable for equipment users, traders, and brand owners.
Provide:
Brand model number
Reference photo
DML has 48,500 replacement filter elements that can cover various hydraulic equipment models.
Custom Your Suction Strainer:
Providing drawings or samples is the most efficient way.
Initial parameters are also available for customized reference.
Generally contains 4 basic data or more
For example:
Flow requirement
ISO clean grade
Operating pressure
Size
Know More About The Suction Strainer
Get the better filter element
Controversy about hydraulic Suction Strainer
Why is it necessary to use hydraulic oil for a suction filter?
The hydraulic oil suction filter in the oil tank is basically a metal mesh filter screwed on the oil suction pipe.
Most of the problems of suction filtration (except quality problem) stem from the installation of the filter element on the air suction line of the pump.
Most hydraulic pumps are positive displacement type, which alternately generate high pressure (oil discharge) and vacuum (suction) depending on the change of the enclosed volume. When the oil pump rotates continuously, the oil discharge and suction actions are continuous.
The suction pressure usually has a certain range, which is limited by cavitation conditions and cannot be too low.
Otherwise it will affect the fluidity of the liquid and shorten the life of oil pump (Also known as cavitation, different principle but same harm).
It should not be too high, which will increase the pressure of the fuel tank, even affect the pressure pump operation.
Therefore, the suction port of the fuel tank must have sufficient suction capacity.
If the customer maintains frequently, the cleanliness of the oil is relatively high, or there is an oil filter, bypass filter device, etc.
The suction port can be installed without a suction filter, in order to reducing the pressure loss at the suction port and improving the oil suction capacity of the pump.
It can also reduce damage to the oil pump due to cavitation.
To be honest, it is rare to maintain oil cleanliness for a long time.
Or it is hard to keep cleanliness for most users.
There are several reasons:
a. Operating Environment
The working environment of hydraulic equipment can be very harsh.
You never know what weird things will get in the oil tank.
If there is an oil suction strainer element that can ensure the flow capacity, it can reduce the filtration pressure of the subsequent pipeline filter element.
b. Product Quality
Quality and filtration performance are the most important selection criteria for filter elements.
In order to select the correct filter equipment, you may need to understand every element and filter device of hydraulic system, including hydraulic oil, etc.
If you are not familiar with those details, it is better to choose the appropriate suction filter according to the system requirements, instead of not to installing it.
c. Operator
After all, environment and quality are objective factors, which can be resolved through cooperation with the filter element supplier.
But for people who work as the maintainers of hydraulic systems.
The common cause of equipment problems are the uncertainty of human maintenance.
Therefore,
The reason why we still using suction strainer in modern systems is not only simply following tradition.
It is the experience accumulated by thousands of technicians and equipment users from trial and error for decades.
For example — the replacement cost.
If there is no suction strainer,
It is possible to increase the frequency of replacement of pipeline filter element, resulting in higher replacement costs.
(Only oil suction filter element can be cleaned and reused to extend its service life.
Meanwhile, low pressure and loop filter, or high pressure filter in the pipeline cannot be reused through back washing)
How to Choose The Right Hydraulic Suction Strainer Element?
Hydraulic Oil Interchange Filter
Brand model of the old filter element or picture is available as reference.
It is the easiest method since the parameters have been fixed for the conventional type of suction strainer.
Because the use conditions and components data have been determined at the beginning design of hydraulic equipment, it cannot be changed easily.
Including hydraulic oil suction filtration (While for some simple structure system, filtration performance can be considered under the premise of ensuring the flow capacity).
Usually, DML will print the model information on the replacement filter element to facilitate the customer to replace the filter element next time.
In addition, if you have no requirements for replacement costs.
You can use the original filter element provided by the original equipment provider, or replace the filter element of the brand in the relevant category.
The original filter element is highly matched with the equipment in various data, which can reduce the risk of matching.
But it should be noted that:
Pay attention to whether the filter element has been upgraded and whether it matches the system for older model.
The original filter element may not be suitable anymore after you changing equipment parameters or other aspects.
The working environment has changed, such as temperature, or environmental changes caused by equipment movement, etc.
In short, choosing the original replacement filter element needs to be based on the condition that your equipment has not been changed.
Or the high cost of replacing the original filter element is not a considerable aspect for you.
The best way to reduce the replacement cost of the filter element is choosing replacement filter element.
A good performance replacement filter element can save more than three times of the cost of the original filter element on average.
In other words,
Once you find a filter element manufacturer with good quality and low cost.
Then in the use of replacement filter elements, you will save half of the cost of consumable replacement every year.
That is why DML can help German brand customers OEM for nearly 10 years.
In addition, we also have ODM customers in the Czech Republic and Romania, as well as shipbuilding customers in Greece.
Non-standard Hydraulic oil Suction Strainer
The first to be considered is the system parameters requirement for irregular oil suction filter elements models.
Model cannot be used as a basis for judgment.
Customized design is adopted when general hydraulic equipment leaves the factory.
For example,
The interface, fuel tank, etc. have been improved,
Before replacing the filter element, the type of hydraulic oil has been changed, etc.
Deviations between customer requirements and model standard information, etc.
At this time, it will be determined according to the specific usage.
Include:
Flow requirement,
Pollution holding capacity,
Filtration accuracy,
Operating temperature,
ISO cleanliness index of oil,
Oil viscosity,
Height of filter element,
Outer diameter of filter element,
Thread of filter element,
etc.
It is not only considered in the process of suction strainer element customized design.
Actual use factors are also needed for oil return filter element, high pressure filter element and other pipeline filters.
Misunderstanding of Hydraulic Suction Strainer
It is generally believed that due to the low filtration accuracy of hydraulic suction filtration, filter element does not have high requirements on the production process.
Actually it is wrong.
Filtration accuracy is only one of the indicators of hydraulic filter elements.
In contrast,
Low-precision suction filter is the only choice to ensure the suction flow of the pump in hydraulic system.
For those high system requirement sophisticated equipment,
In order to ensure the relative balance of filtration performance and oil circulation performance,
It needs accurate data calculation.
In this way, it can be ensured that the suction filter element has the required filtering performance and flow capacity. Instead of simply reducing the filtration accuracy to ensure circulation.
Then it will lose the function of suction filtration.
In addition,
Sometimes the problem does not happen in the hydraulic suction filter, but may also occurs in some small parts that are easily overlooked, such as:
Respirator
Failure of the exhaust valve can also cause air suction, noise, pressure instability and oil temperature rise.
So the air breathing apparatus should be replaced regularly.